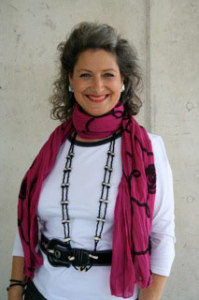 Jenison Thomkins
Qualifications
certified teaching NLP-Trainer, DVNLP since 2005
certified teaching Coach, DVNLP since 2013
Listed as "Gründercoach" (coach for founders), KFW and BPW, since 2005
Regular training in NLP, psychology and adjacent schools
Competences
Capturing key problems fast and thorough
Cordial and clear support
Creative thinking
Author of books and professional articles
Future, trend and marketing know-how
Networking expert and voluntary activities
Coaching and training offers/ specials:
Coaching in own institute combined with a creative atmosphere
NLP Practitioner-, Master and Trainer-Training
Varied lecture and workshop program on personality development and emotional
competence
Acquisition and marketing coaching "Blue Ocean Strategy"
Coaching by walking
Team-coaching and supervision
Coaching for couples
Voluntary work
Founder and president of Femme Total since 1999
Founder/ spokeswoman of the expert group Trainer (IN) since 2008
Spokeswomen of the expert groups in the Board of Spokespersons/ member of the DVNLP Board of Trustees
Lecturer at DVNLP congress
AK "Woman & Economy", Employment Agency, in Cologne since 2002
Training, life and skills
Magister in "cultural anthropology" (Ethnology) in Amsterdam
English, Dutch, French, Italian
Musician, performance artist
Background of an artistic family
Happily married since 1989Two adult sons
Detailed Vita
My name is Jenison Thomkins. My family has always been inspired by music, writings, paintings
and creativity. My father André Thomkins (www.thomkins.com) was an extraordinary artist and my mother Eva a painter and an art teacher.
Since I was a child, me and my four other siblings were surrounded by art and especially my mother tried to encourage us to be creative. My mother painted the entire apartment so our hallway was purple, the bathroom blue, the kitchen yellow, the external facade pink and we were allowed to paint our walls under her supervision.
We were taught to do everything on our own. We were short of money that is why we had self colored tables and chairs. Our childhood had and still has a big impact on our lives: my brother Nicolas (…) is a designer and my sister Natalie is a painter (…).
I also like painting, playing different instruments and designing my own clothes but I sought more. It was too boring and easy for me to do what my parents did. My fist interest was finding out if there is a tribe hidden in the jungle, who is truly happy living the way they live.
Instead of just painting, I was interested in understanding other people, including myself.
That is why after graduation I started studying Ethology and Sociology. I was especially interested in studying the daily life, people, their relationships, their forms of organization and rituals. I studied three years in Münster and 6 years in Amsterdam. It was an amazing time! After my father died, I came back to Germany and my mother moved to Cologne. 1987 I moved to Cologne as well and met the journalist and model Gerd Müller-Thomkins. To this day, we are still happily married! We have to sons who are both studying at different universities in Germany.
Withing three years after moving to Cologne I found my profession as a independent NLP-Trainer. I love my job and I love sharing my experiences with other people.
Parallel to my job I founded 1999 the business network for women www.femmetotal.de which has blossomed ever since and brings joy and purpose into the participants life. Here, creative and accomplished women come together to share their feeling and experiences, learn new things and just have a nice chat with other individuals. Interested men are also welcome in this women friendly environment.
As you can see, life and work is still an exiting artwork for me.
I am looking forward to meet you at one of my events!