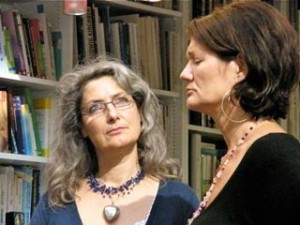 Free Check :
You would like to know if coaching is a solution for your problem? Write me an email, shortly describe your situation and I will give you a call for a 15 minutes free of charge telephone coaching!
Good thing about coaching?
It is solution-oriented, practical, fast and sustainable! I offer single-, pair- and team-coaching for your job, study and private matters.
My strengths are finding the cause for negative blockades, processing limited
beliefs and clarifying confusions.
You can be sponsored!
I am an official coach and consultant registered at the "Gründungscoaching Deutschland" ("Foundation- Coaching") – Program of the KfW-Bank (German government-owned development bank), and approved for the Beratungsprogramm Wirtschaft (BPW – Consultingprogram Economy).
My thesis is:
Every person develops certain characteristics and behaviors due to their family situation and culture which can be useful, appropriate and essential for a certain period of your life. These skills turn us into experts, virtuoso and even world champions in certain situations! But in other situations we act like complete beginners or even fail miserably.
This is normal because we can't be men or women, young or old, thick or thin, tall or small at the same time. Most people still try to develop multiple personalities or "lifestyles" due to the attractive possibilities there are today. "Teilzeithippies"("Part-time-Hippies") sings Annett Louisan and "Who am I and if so, how many?", is the bestseller title form David Precht.This occurs when we try to be different than we actually are!
This are the different types of coaching I offer in my studio for NLP&Personality Development:
Foundation – Coaching with KfW – Funding -Pre – Foundation – Coaching: Consultingprogramm Economy (BPW)
Team-Coaching
Private Single – Coaching
Couple – Coaching
Outfit+Style Coaching
NLP – Coaching – Training, DVNLPAdvantages:
We live in wonderful time with a huge wealth of knowledge, which helps us to have a happy and successful life!
I personally find NLP a great coaching method to realize who you are, which skills and values you have and which goals are adequate, realistic and useful for you!
NLP turned over 40 years into a broad collection of effective instruments, which can change the behavior in a fast, specific and lasting manner. NLP is practiced worldwide and due to the many practical and scientific publications transparent for all those who are interested. I am a Master-Coach, a teaching coach and an active member of the DVNLP, Germany's and European development association.
To end relationship and family problems, first I use a systematic line-up method occasionally even "returns" or body oriented methods like "tapping" and "waving". I especially like the humorous and respectful "provocative style". You can see me at the 1. provocative forum in Munich from this June where I addressed the topic: "Fail gracefully: How you're not reaching your goals!" ("Schöner scheitern: Wie Sie Ihre Ziele nicht erreichen!"
I try to keep up with the most effective methods by exchanging intensively with my colleagues from Femme Total and constantly attending new training's. I will provide you with the information you need to reach your goals!
Following the motto: love it – leave it or – change it! You can basically pursue and reach your goal during the coaching process – depending on how much energy and effort you want to include.
The story about the monkey and the elephant
Do you know the metaphor of the monkey and the elephant where you supposedly treat them equal by giving them the same task: "Climb this tree!" The monkey climbs the tree in no time while the elephant would probably need a lift to get up there.
But is this useful? If the task would be: "Lift this big stone!" the elephant wouldn't have a problem while the monkey would fail.
No one would give these two animals such silly tasks. But people have these tasks! They expect from themselves or others to deal with tasks for which they are not suited – that leads to problems!
As long as we have goals that match with our abilities and values, we are successful and happy. But if we pursuit something for with we are not suited, some parts of our mind reacts stubborn, distracted, angry and have the urge to flee.
If someone is, for example, very social and caring and taking other people feeling into consideration is his highest value, it will be hard to compete with others in a company. Vice versa it is hard for a powerful person (f.e. Managers) to put up with lazy and very emotional people or employees.
Many things can be achieved with hard work, devotion and "walking over dead bodies". But actions call for consequences! The relationships, success and health get forgotten because we keep ignoring inner signs. It doesn't have to be that way! You can identify your own goals because you can easily handle them!
So if you have goals that cause conflicts because you are not properly equipped or because your values are just different, stop trying to reach them. It's a waste of your time and energy. Instead say to yourself: That is a good coaching topic!