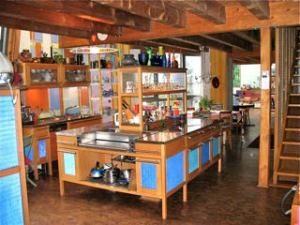 The NLP&Personality development studio in Cologne
The NLP studio is full of different stories. Here you are going to experience profound change
regardless if you came there as a participant of a NLP training, visitor of the Femme Total-Network- Events, coach or tenant. The colorful ambiance and the open and warm atmosphere is going to enchant you.
After her loving mother the painter Eva Thomkins (here a self-portrait of her) passed away in 2006, her daughter Jenison Thomkins took over the beautiful premises and turned it into a place where she organized events and meeting. Back in the days, Eva Thomkins organized here events with former students and friends as well. She loved to be a host and Jenison wants to keep this tradition. So the moment you step in, you will feel comfortable. And even today you can still feel the presence of the previous owner.
Jenison basically left the studio the way it was already set up in the past 20 years by her family of artists. Nevertheless, she let her creativity flow and changed a few spots. Evas comfortable
armchairs and sofas (in Biedermaier style) were placed in seat groups, books were put in shelves and additional colorful dishes were provided for the thirsty visitors.
When the Femme Total Network Community comes together in this premises for their Christmas dinner or New Year reception, they only need to open the cabinets and drawers which were designed by her brother Nicolas Thomkins, to find everything they need: dishes, cutlery and plenty of cake plates. There is something for everyone!
"Sometimes I fell like a museum guard", says Jenison with a smile on her lips while she is looking at the variety in her studio.
The studio, kitchen and living spaces crate a good mood and bright colorful paintings, pictures and small objects will inspire you.
The walls and doors of the studio were turned into a complete artwork by her sister Natalie, who is a painter living in Italy. "It fells like being on vacation", the visitors say with astonishment, after they have felt the mood of the premises. "I never thought I would find something like this in the center of Cologne!"
We would like to invite you to come to one of our events and to immerse in this artistic oasis.
The studio as a venue
The studio can be rented for lectures or seminars. There is a big room downstairs
and a smaller room upstairs for a group of max. 10 people which I would also recommend for individual coaching.
Contact us if you are interested.
E-Mail: info@nlp-atelier.de